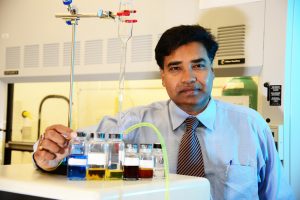 Sudipta Seal has been named chair of the Department of Materials Science and Engineering (MSE) at the University of Central Florida.
The appointment, announced by Michael Georgiopoulos, dean, UCF College of Engineering and Computer Science, came after a search to fill the position that was held by Seal in an interim chair role since 2014.
As chair, Seal leads one of six academic departments of the college. MSE has 14 core faculty, 26 affiliated faculty and two lecturers, and offers master's and doctoral degrees in materials science and engineering.
Established as an academic department at UCF in 2012, MSE is home to more than 55 graduate students who study and research advanced structures, processing and properties of materials, from traditional metallurgy to biological materials, polymers, ceramics, semiconductors, composites, magnetic materials and more. Current research projects address additive manufacturing, biomaterials, nanotechnology, "smart" and electronic materials, and coatings.
Seal is internationally known for his groundbreaking work in ultra-fine nanomaterials processing, smart coatings and rare earth ceramics for energy and biomedical applications. His research spans topics as diverse as nanoparticle delivery of cancer drugs to how Mars soil can be used to sustain human life on the red planet.
He has advised the research of 19 doctoral students, 22 master's students and many undergraduates. A prolific author with more than 22,000 citations, Seal's research findings have been published in nearly 400 journal papers, conference papers, book chapters and three books on nanotechnology. In 2002, he received a prestigious early-career Office of Naval Research Young Investigator Award.
With more than 60 issued patents, Seal was inducted into the National Academy of Inventors in 2016.
During his time as interim MSE chair, Seal directed the UCF NanoScience Technology Center and the Advanced Materials Processing and Analysis Center (AMPAC) at UCF.
He joined UCF as an assistant professor in AMPAC and UCF's Department of Mechanical, Materials and Aerospace Engineering in 1997. Prior to UCF, Seal was a postdoctoral fellow and Lawrence Berkeley National Lab, University of California-Berkeley, in surface science and materials engineering.
"Dr. Seal has an exemplary scholarly record, and been instrumental in growing the young MSE department," Georgiopoulos said. "As interim chair, Dr. Seal has led MSE with a steady hand, while concurrently demonstrating exceptional leadership of AMPAC and UCF's Nanotechnology Science Center. He has expanded the department from six to 14 faculty members and raised the department's national and international visibility."
Among his numerous honors, Seal is a fellow of national and international scientific societies, including ASM International, American Association for the Advancement of Science, Electrochemical Society, American Vacuum Society, American Institute for Medical and Biological Engineering, and the Institute of Nanotechnology.
At UCF, Seal is a Pegasus Professor, UCF's highest faculty honor, and is the recipient of UCF's Research Incentive Award, Teaching Incentive Award, Dean's Advisory Board Excellence Award. He is also a lead faculty member for UCF's Prosthetic Interfaces research cluster.
"I am proud to be part of a department with talented faculty, staff and students," Dr. Seal said. "I will make a top priority to expand MSE's national and international visibility and initiate an undergraduate program in MSE in the near future. I will continue to foster interdisciplinary partnership between MSE and other departments, colleges, centers and institutes."
– UCF –