CECS distinguished alumni are our shining stars
Every year, CECS recognizes and honors distinguished alumni for their remarkable professional contributions and their dedication to the college and UCF. The University of Central Florida was established in the spirit that if we reach for the stars, dreams come true.
Please click here to register for the reception.
If you or your company are interested in sponsoring this event please view the sponsorship flyer HERE.
Meet the 2022 Distinguished Alumni Award recipients
Thomas "Tom" Riordan
CECS
Class of '78 '79MS

Nicole Stott
CECS
Class of '92MS
Astronaut/ Director
Retired NASA/ Space for Art Foundation
Taylor Lochrane
CECE
Class of '08 '09MS '14PhD
Deputy Director and Chief Scientist
US Department of Transportation – Office of the Assistant Secretary for Research and Technology, HASS COE
Timothy "Tim" Smith
CECE
Class of '98
Executive Vice President
Wharton-Smith, Inc
John Sparkman
MAE
Class of '13 '15MS
Associate Director and Vice President
Limbitless Solutions
Jennifer Lyons
MAE
Class of '92MS
Deputy Manager, Deep Space Logistics
NASA Kennedy Space Center
Angela Balles
IEMS
Class of '95
Branch Chief
NASA
Christal LaVecchia
IEMS
Class of 01 '03MS
Lockheed Martin
Osama Abdel-Rahman
ECE
Class of '05MS '07PhD
Principal Application Engineer
Infineon Technologies
Samuel M. Richie
ECE
Class of '80
Associate Professor Emeritus, Department of Electrical and Computer Engineering
University of Central Florida
Omar Javed
CS
Class of '05PhD
Vice President of Applied Science
Twitch
Steve Leonard
CS
Class of '04
Northrop Grumman Fellow
Northrop Grumman
Islam Salama
MSE
Class of '03PhD
Vice President
Intel Corporation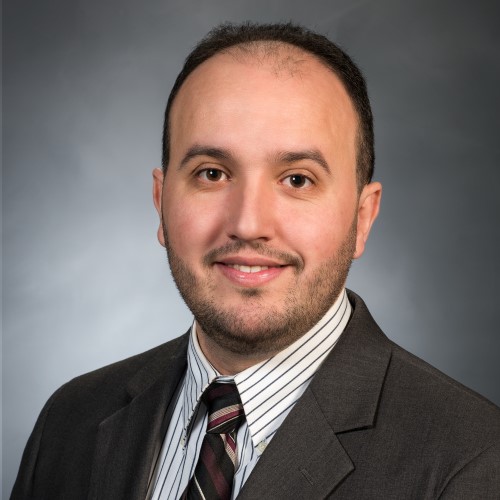 Othmane Benafan
MAE/MSE
Class of '08 '09MS '12PhD
Materials Research Engineer
NASA Glenn Research Center
Brianna LaBarge
Ad Astra
Class of '13
Sr. Operational Excellence Engineer
ASML
Kadi Gashlin
Ad Astra
Class of '19
Lead Design Engineer
Axiom Space
Sponsors
Past Distinguished Alumni Award Recipients
UCF College of Engineering and Computer Science
Distinguished Awardees
2011 – Benjamin Patz '85MS
2012 – Oscar Rodriguez '86
2013 – Vinod Philip '00MS
2014 – Angel Ruiz '78
2015 – Ian Ippolito '93
2016 – Dr. Arun Ramaswamy '92MS '94PhD
2018 Spring – Dr. Ankush Oberai '83 '18PhD
2018 Fall – Frank A. St. John '87 '91MS

Ad Astra Awardees
2015 – Jason Dunn '07 '09MS
2016 – Justin Corini '09
Dept. of Civil, Environmental and Construction Engineering
2012 – Leila Jammal '82
2013 – Dr. Tyng-Lin Yang '92PhD
2014 – David Mulholland '93
2018 Spring – Jeremy Dilmore '02 '05MS
2018 Fall – Dr. Anurag Pande '03MS '05PhD
2019 – Denver Stutler, Jr. '87, '89MS
Dept. of Computer Science
2011 – Lee Carrick '80
2012 – Jay Hackett '87 '89MS
2013 – Dr. Robert Franceschini '92MS '99PhD
2014 – Craig Miller '89MS
2018 Spring – Dan Schiappa '87-'90
2018 Fall – Dr. Kathryn Kinsley '79MS '83PhD
2019 – John Stevens '96
Dean's Award
2013 – Dr. Robert Kersten
2018 – Dr. Martin Wanielista
Dept. of Electrical and Computer Engineering
2011 – Dr. James Vinson '98PhD
2012 – Brian Crutcher '95
2013 – Dr. Richard Hull '93MS '96PhD
2014 – Terence Murphy '85 '89MS
2018 Spring – Dr. Shamik Sengupta '07PhD
2018 Fall – Herb Gingold '91 '14MBA
2019 – Philip Dumas '05
Dept. of Industrial Engineering and Management Systems
2011 – Dr. Grace M. Bochenek '98PhD
2012 – Dr. Adedeji Badiru '84PhD
2013 – LTC Gregory Fortier '06MS
2014 – Dr. Thomas O'Neal '96MS '96MBA '05PhD
2018 Spring – Amanda Mitskevich '92MS
2018 Fall – Dr. Lucy Morse '82MS '87PhD
2019 – Tandreia Bellamy '98MS
Dept. of Materials Science and Engineering
2013 – Dr. Christina Drake '07PhD
2014 – Ajay Kale '99MS
2018 Spring – Dr. Petya Georgieva Fernlund '06PhD
2018 Fall – Dr. David Reid '12PhD
2019 – Dr. Catherine Kammerer '13MS, '15PhD
Dept. of Mechanical and Aerospace Engineering
2011 – Dr. Munir Sindir '73
2012 – Joanne Puglisi '73
2013 – Dr. Daniel Rini '95 '97MS '00PhD
2014 – Paul Mirabella '75MS
2018 Spring – Zachary Quandt '84
2018 Fall – Mark Blue '89 '08MS '10MBA
2019 – Michael Piatek '02, '05MBA