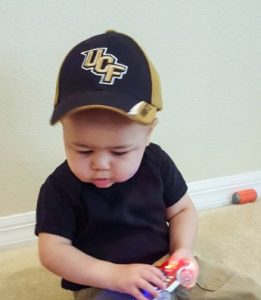 Hillary Sample Martinez, '06, has spent the past year in and out of hospitals watching her 20-month-old son, Korbyn, fight an aggressive form of leukemia: acute lymphoblastic leukemia (ALL), a cancer of the blood that starts in the bone marrow and spreads to the bloodstream.
Even as he goes into remission, Korbyn's doctors have found traces of leukemia.
"Even a few – five or six of the cells is bad," said Martinez, a UCF civil engineering alumna. "A bone marrow transplant is the next most effective treatment."
Korbyn's miracle could be in your DNA, which is why Martinez hopes anyone wishing to be a potential bone marrow donor will take a few minutes on Monday, June 27, from 11 a.m. to 6 p.m., to stop by OneBlood's "Be The Match" tent on campus, on the Bright House Networks Stadium concourse. Pre-registration is not required. A OneBlood staff member will swab your cheek. Results are placed in a national registry, so there could be a match found for Korbyn or another person seeking a donor.
Note: The bone marrow donor drive will be held concurrently with a large-scale blood drive at the same location. See below for details.
Once a bone marrow donor is identified and confirmed as a match through additional tests, options include an outpatient procedure involving the pelvic bone with donors usually being discharged by the end of the day. Doctors say most people return to normal activities within a day or two. Another option is a series of stem-cell bone marrow extractions from the blood stream.
For the Martinezes, finding a donor would be "the miracle that we're all waiting for."
The family learned Korbyn had leukemia after he repeatedly got fevers and ear and sinus infections while at daycare. His mother said the frequency was troubling enough, but while antibiotics initially worked, he was sick again within a few weeks.
Finally, one physician requested bloodwork on the baby – and that unraveled the mystery. Korbyn's white cell count was far above normal. Mutated white blood cells were multiplying uncontrollably in his bloodstream. Within days, he had his first round of chemotherapy.
"We couldn't even process this or grieve," said his mom. "We just had to act."
Everything changed for the family then, she said. She went from a full-time engineer to part time. Her husband, Bryce, works full time. Both juggle the doctors' appointments and hospital stays.
Korbyn had three rounds of chemotherapy during the past year. His mother says she's constantly amazed at how strong he is and how few side effects he's had.
"Korbyn keeps us strong. He's taken this thing by storm," she said. "No matter what we give him, he just takes it."
It's still not easy. With his immune system compromised, the family home is a germ-free zone. They can't go out in public and Korbyn can't play with other children. They leave their shoes outside and change clothing immediately when they return from work or the grocery store.
"We can't take him places like Disney," she said. "So we do what we can to keep him happy."
If a donor is found, Martinez said, they would be "giving us back our 'normal.' For us to get that back would be huge, huge." If not, she hopes another family might see a cure. "It's not just for Korbyn," she said. "It could be for someone else, some other family. You could change someone's whole life by just giving a few minutes of your time."
UCF Will Also Host Blood Drive June 27
The "Be The Match" tent will be located next to 12 OneBlood "Big Red Buses" that will be on campus June 27, 11 a.m. to 6 p.m., as part of UCF's large-scale blood drive being held in honor of the June 12 mass shooting at the Pulse nightclub in Orlando. Blood donation is by appointment only. More information about the blood drive, including a link for making appointments, is available here.
– UCF –
This story was adapted from a June 23, 2016 UCF Today story by Alina Hernandez.