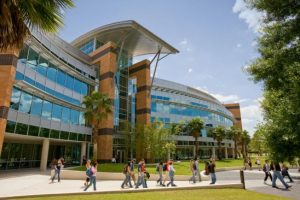 In national rankings released today, the University of Central Florida's College of Engineering and Computer Science moved up three spots to No. 46 among public universities in U.S. News & World Report's Best Graduate Schools of 2018.
And for the first time, all seven eligible programs in the College of Engineering and Computer Science ranked among the best in the nation.
University-wide, 22 UCF graduate programs were ranked in the top 100 in their respective fields, according to the annual survey that ranks more than 800 public and private institutions.
The seven engineering programs ranked are: Industrial Engineering, No. 38; Electrical Engineering, No. 55; Computer Engineering, No. 64; Mechanical Engineering, No. 69; Materials Engineering, No. 71; Environmental Engineering, No. 74; and Civil Engineering, No. 82.
UCF's best ranked program is Counselor Education in the College of Education & Human Performance, which moved up two spots to No. 7.
"UCF is on an upward trajectory because we are harnessing the power of our scale and our pursuit of excellence to transform higher education in the nation," said UCF Provost and Executive Vice President Dale Whittaker. "These rankings are an important recognition of our academic excellence and rigor – and a tribute to the work of our dedicated faculty. Beyond rankings, though, we truly want to be known as a university of great impact to our students and society."
Engineering in particular uses the power of scale to produce excellence.
"Our three-spot jump in the rankings is a testament to our college's growing national reputation," said Michael Georgiopoulos, dean of UCF College of Engineering and Computer Science. "Our faculty, including 20 new members who have recently joined UCF, are pushing the boundaries of scientific discovery in their fields. As the one of the nation's largest producers of engineers and computer scientists, UCF provides a high-quality, high-value education, and endless opportunities for students to pursue breakthrough research that is relevant to high-tech industry and vital to our nation's future."
The Best Graduate Schools rankings are based on peer and expert opinions about the quality of a program and some statistical data that measures the quality of a school's faculty, research and students.
In addition to the seventh-ranked Counselor of Education program, UCF's College of Education & Human Performance has the fourth-highest ranked program at UCF – Special Education, which is 20th nationwide.
"We are delighted to be recognized, and especially to see the addition of our Exceptional Education program added to the list of Top 20 programs nationally," said Pamela Carroll, dean of the college. "Our Counselor Education program continues to do fine work, with growth particularly in its marriage and family program through its federally funded Project Harmony and the excellent work it is doing to provide counseling opportunities in area elementary schools."
Among Top 100 programs that made significant gains, UCF College of Nursing's Master of Science in Nursing ranked No. 82, up 27 notches, while the Doctor of Nursing Practice ranked No. 76, up 24 spots.
Other rankings are listed in the full story published on UCF Today.
– UCF –
Story by Alina Hernandez, UCF Today.