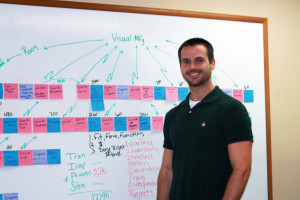 Matt Harrison personifies giving back to UCF. A May 2013 graduate with a bachelor's degree in aerospace engineering, he has already established a scholarship dedicated to excellence at the UCF College of Engineering and Computer Science: the Leadership Scholarship.
As a student, Harrison was active on campus, attending numerous engineering events, serving as chapter president of both the Theta Tau Professional Engineering Fraternity and the American Society for Engineering Education, and asserting himself as part of the UCF Engineering Leadership and Innovation Institute (eli²). In turn, as a person, he grew. Harrison, for example, attributes much of his early career success to eli²:
"I learned how to be a leader, and I learned how to communicate," he says.
These days, those lessons serve him well as a medical engineer at 3D Medical Manufacturing in West Palm Beach, Fla., where he is largely a trouble-shooter who works to ensure quality standards. Continually on the move at 3D Medical, he solves problems involving a variety of people; interaction is a key part of getting his job done. "I use my resources to fix problems, and the ability to share my vision is one of those resources."
Now, he's returning the favor to UCF.
Four days after graduating, he began working at 3D Medical Manufacturing. By fall 2013, his Leadership Scholarship was in place, benefiting two students.
Each year, a scholarship will be given to two students of the College of Engineering and Computer Science who demonstrate outstanding leadership qualities. Applicants must be enrolled full-time and they must write an essay describing their current leadership roles and ambitions as a leader. For information about this scholarship and others from CECS, visit http://www.cecs.ucf.edu/scholar/cecs.php. To apply, go to my.ucf.edu. (DEADLINE IS FEB. 1, 2015)
Harrison established the criteria himself. "I wanted a scholarship that was not based on GPA, but rather on leadership ability and the willingness to give back to UCF," he says. He also selects the recipients with help from Tim Kotnour, Ph.D., a professor in the UCF Department of Industrial Engineering and Management Systems, and director of eli². The scholarship doesn't bare Harrison's name, with the hope that other alumni will contribute to it.
"My goal is to not only give back, but also to inspire others to see their full potential," he says. "I will always take an opportunity to give back what UCF has given me — and that is the ability to think strategically, give willingly and lead courageously.
"My aim is to not only build confidence in the leadership recipients, but to also instill the responsibility of paying it forward."
Notably, he opted not to wait after graduating from UCF. "If you're going to do something, you should start early," he says. "I figured that if I started early, I would put myself into the habit of giving back as I grow older."
Harrison contributes to UCF in other ways, as well, returning to campus to serve as a guest speaker and as a mentor to the types of students he represented not long ago. "UCF," he says, "means so much to me."