Two Mechanical and Aerospace Engineering faculty members received Pegasus Professor awards, the highest academic honor an educator can receive at UCF. Honorees must be nominated, have worked at the university at least five years and have conducted research or developed programs that have made national and international impact. Each recipient receives a $5,000 stipend and $5,000 in research grants.
Jayanta Kapat and Alain Kassab received the awards at UCF's 2017 April 5 Founder's Day celebration, two of five to be honored at the ceremony. UCF's other recipients are David Hagan, Jana Jasinski and Robert Folger.
Since 2007, 16 College of Engineering and Computer Science faculty members have been named UCF Pegasus Professors.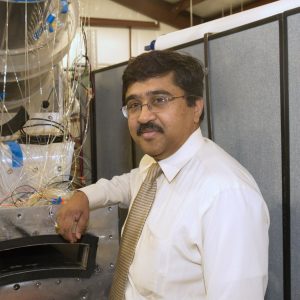 Jayanta Kapat, a faculty member at UCF since 1997, is a professor in the UCF Department of Mechancial and Aerospace Engineering. He is the founder of UCF's Center for Advanced Turbines and Energy Research (CATER) that is a hub for research and development of advanced turbomachinery and energy systems. Kapat and CATER's team have garnered national and international recognition for their efforts in advancing research of turbomachinery for power generation, aviation and space propulsion.
Kapat also has been instrumental in UCF's development of partnerships with top industry companies including General Electric, Siemens and Mitsubishi, among others.
"Professor Kapat represents UCF's vision to be America's Partnership University," wrote Associate Professor Seetha Raghavan in a letter of recommendation for Kapat. He's also led a partnership with Florida State University to help advance the state's aerospace industry through the Florida Center of Advanced Aero Propulsion that provides workforce training and develops new technologies.
Personally, he's garnered more than $14 million in research grants and has mentored and graduated 20 Ph.D. students, 45 master's students and 16 bachelor's degree honors in the major students.
"Professor Kapat is a true academic leader and has made invaluable contributions to UCF and to the turbomachinery scientific community," wrote Yoav Peles, chair, UCF Department of Mechanical and Aerospace Engineering.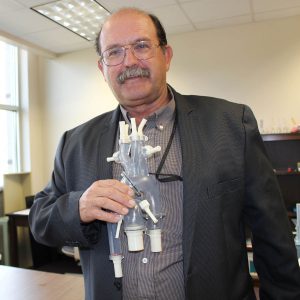 Alain Kassab, a UCF faculty member since 1991, has helped bring international recognition to UCF through research, collaborations, and enhancement of the mechanical and aerospace engineering curriculum.
His research spans several disciplines, including computational methods in heat transfer and fluid flow, inverse problems, boundary element, meshless methods and in bioengineering, producing more than 300 scientific papers and two books. His research has been supported by NASA, the U.S. Department of Education, the American Heart Association, Orlando Health, Siemens, the U.S. National Science Foundation and more.
He's organized and chaired 10 international conferences at UCF that brought top industry professionals and organizations to campus and, in turn, increased awareness of UCF among attendees.
In the College of Engineering and Computer Science, he led the committee that crafted the bioengineering minor degree program, was the committee chair and lead author of the master's in biomedical engineering that was created in fall 2016, and he is now leading a committee that's creating a proposal for a Ph.D. program at UCF in bioengineering.
"In his 26 years of service to UCF, he has maintained an ever-expanding high-quality research program, and he has made a mark at UCF through his contributions to graduate education, student mentoring and engagement, and program development," said Manoj Chopra, a civil engineering professor at UCF.
Kassab has mentored to graduation 14 Ph.D. students and 27 master's degree students. Plus, he's the faculty advisor for the mechanical engineering honor society Pi Tau Sigma, the biomedical engineering society chapter at UCF and the UCF fishing club, the Reel Knights.
Click here to read about all five 2o17 Pegasus Professors.
– UCF –
Excerpted from a story by Rachel Williams, UCF Today.