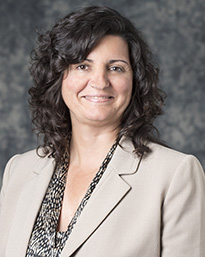 Jane Bishop is vice president, E-2/C-2 programs for the Military Aircraft Systems division of the Aerospace Systems sector at Northrop Grumman.
In her role, Bishop is responsible for the continuing development, production and delivery of the E-2D Advanced Hawkeye, the U.S. Navy's carrier-based airborne early warning and control (AEW&C) aircraft. She will also be responsible for continued sustainment of the E-2C Hawkeye and the C-2A Greyhound, the U.S. Navy's carrier onboard delivery aircraft.
Bishop has more than 25 years of experience in engineering and leadership roles in AEW at Northrop Grumman, including the development of the E-2D as a vital node in the Naval Integrated Fire Control – Counter Air initiative (NIFC-CA) capability. Most recently, Bishop was deputy lead for the E-2/C-2 programs, where she assisted in management of all function areas.
Bishop is a graduate of Virginia Polytechnic Institute and State University with a bachelor's degree in Electrical Engineering. She has also completed the Harvard Business School Professional Leadership Development Program.