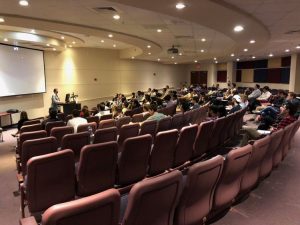 'Leaders Up Close' series provides CECS students with professional advice
Megan Turner
The Engineering Leadership & Innovation Institute at UCF (eli2) kicked off the "Leaders Up Close" seminar series on Friday with UCF alumnus and Senior Director for Research and Development at Synopsys Inc., Ankush Oberai.
"To become successful there are many things, but these three things are key: ideas, teamwork and risk-taking," Oberai said. "Risk taking is key, but the other thing that's critical is teamwork. There is no single person that can claim he did something on his own, it never happens."
Oberai, an inventor, entrepreneur and member of the CECS Dean's Advisory Board, spoke to the room of just under 100 engineering students about taking what they learn in the classroom, along with experiences and successes he presented from the industry, to inform and learn from.
"It all starts with ideas and it gets into observations," Oberai said. Reinforcing the concept that everything starts with an idea, Oberai discussed how ideas lead to observations, how observations promote out of the box thinking and how this thought process leads to entrepreneurialism, using examples throughout his presentation.
Oberai graduated from UCF in 1983 with a master's degree in electrical engineering. He went on to co-found Knights Technology, a semiconductor software company.
The series of hour-long seminars provide professional development to the College of Engineering and Computer Sciences students by exposing them to prominent industry professionals in leadership roles and encouraging the development of necessary skills for students to become successful.
"I think it's really helpful to meet industries and people in places we want to work," said Connor Whitley, junior aerospace engineering major. "This is a chance, in a semi-formal setting, to get a somewhat close interview with someone that you would definitely not be able to, in an industry."
"In future events, specifically for us with NASA, a low-level recruiter would be interviewing us, but we could ask her legitimate questions and on her side of things," Whitley said.
Having the ability to ask a recruiter what they look for in a new employee, what would make an individual stand out, and having the prior exposure to the process are a few things Whitley said are important.
Gillian Werner, senior aerospace engineering major and director of interns for eli2, first got involved with the program her sophomore year at UCF and by her junior year had joined the student committee before becoming an intern for the organization.
"Eli2 is something that makes UCF unique and sets UCF apart from other universities that offer engineering degrees," she said in an email. "The opportunity to jumpstart your career in technical leadership is incredibly valuable, and I could not be more thankful to eli2 for giving the UCF student body that opportunity."
As the director of interns, Werner works with the student committee and intern team to coordinate events and projects to benefit the UCF community.
Werner said that the engineering courses at UCF do a great job of preparing students technically, which is the foundation for success in engineering.
"It is up to the students to develop their soft skills on top of that to make themselves more marketable upon graduation. I can honestly say that without eli2, my soft skills (e.g. collaboration, creativity, leadership, etc.) would be nowhere near as developed as they are," Werner said.
The series was scheduled to kick off on Jan. 19 with the former CEO of ZeroChaos, Harold Mills, as the guest speaker, but a last-minute cancellation forced Dr. Tim Kotnour, the director of eli2 and professor of industrial engineering and management systems, to lead the session.
"I was a little disappointed that we couldn't have Mills come, but we actually had the program director, Dr. Kotnour come," said Blaine Tinsley, junior aerospace engineering major.
Tinsley said Kotnour gave great information regarding expectations engineering students should have, and how failing is one of the best ways to learn.
The mission of eli2 is to help students discover their desire to create, innovate, collaborate, and deliver world-changing solutions.  These seminars are available to CECS students enrolled in the "Engineering Leadership I" course, or by reaching out to the assistant director of CECS and eli2 Kate Hurt.