Perla Latorre is a first-year graduate student pursuing a master's degree in Aerospace Engineering. Perla has been doing research in nanocomposite materials for structural health monitoring at the Raghavan Research Group for three years. She was part of the L.E.A.R.N. program at UCF and a fellow at X-Force, where she gained engineering experience. Perla has been working on developing 3D printed sensors for space components and led the NASA MINDS team. She is interested in continue developing materials that can improve space components. In her spare time, she enjoys running and spending time with her family.
Emma Shafer is a senior aerospace engineering student, and she is very passionate about spaceflight. After receiving a master's degree or a doctorate degree in aerospace engineering, she wants to become an engineer in the spaceflight industry. She has had two engineering internships, one with the Navy and one with the Air Force, and she has had over two years of research experience with the Vasu Lab, which is part of UCF's Center for Advanced Turbomachinery and Energy Research. Emma is also a musician, with her minor in music, and she likes playing video games in her free time.
Jackson Asiatico is currently pursuing a master's degree in aerospace engineering. He received his bachelor's degree in mechanical engineering from Georgia Southern University (GSU). He served as the president and ergonomics design lead of the Formula SAE team at GSU. His research involves computational studies in fluids and aerodynamics. Recent research includes numerical studies in combustion instabilities and chemically reacting flows. His hobbies include 3D printing and running.
Christopher Ngo originates from South Florida and is currently pursuing a M.S. in Biomedical Sciences after receiving a Pre-Clinical Health Sciences B.S. from UCF. His research experience includes studying the tumorigenicity of non-coding RNA and miRNA in prostate cancer using xenograft models. Outside of research, Chris is a trained firefighter/EMT.
Andrew Ady is a native of Belle Isle, Florida. In December 2020, he graduated from the University of Central Florida with a double major in Biomedical Sciences and Health Sciences – Pre-Clinical Track. Next fall, he plans to continue his education at the
University of Central Florida pursuing a Master of Science in Biomedical Sciences- Cancer Biology. His ultimate goal is to become a physician specializing in orthopedics. He has volunteered with many organizations throughout his life and currently works with the American Red Cross to assist displaced families. As an Eagle Scout, Andrew developed a passion for the outdoors and continues to enjoy hiking, skiing, running and traveling.
Andres Torres-Figueroa (BS 23') is studying aerospace engineering with minors in computer science and mathematics. Since April 2020, he has been conducting research under Dr. Kinzel in the Computational Fluids and Aerodynamics Laboratory. His undergraduate thesis is focused on developing a model for simulating plume impingement in space technologies using the open-source multi-physics toolbox, OpenFOAM. These efforts aim to support the development of NASA's 'Gateway' space station, which intends to orbit the moon once built. Over the next semester, the M-STAR program will prepare him for a full-time role at the Kennedy Space Center this summer.  
Oneilia Swaby is a senior majoring in Aerospace Engineering at the University of Central Florida. She was originally born in Jamaica and emigrated to the US during her childhood. She is currently conducting research with the Raghavan Research Group. Oneilia loves math, the color purple and is obsessed with the moon. In her free time, she likes to cook, bake, paint, draw and write. She hopes to one day earn her PhD in Aerospace Engineering and open a nonprofit organization to promote STEM education to children from low-income backgrounds.
Bryce Joseph Aparicio is a UCF Burnett Honors College Student. He is a mechanical engineering major in Junior Year, and he has also pursued a minor in computer science. He is passionate about learning and hands-on experience working on projects. He chose mechanical engineering because he believes it best combines his abilities and education with the process of creation that produces a project that is especially rewarding to work on. He is incredibly excited to have the opportunity to work on this project and absorb as much of the knowledge and experience available.
Katrina Gucwa is a Burnett Honors College student at the University of Central Florida. She is in her junior year of her bachelor's degree in aerospace engineering and is pursuing a minor in mathematics. Her career goals include not only gaining experience working in the aerospace industry on launch vehicles but also receiving a master's and doctorate in aerospace and physics related topics. Currently, she is part of the Raghavan Research Group, and her research involves studying lunar regolith's abrasion and adhesion behavior on spacecraft and in microgravity. In her free time, she loves learning about other cultures and studying languages; Korean, Lebanese, and French are some of her favorites.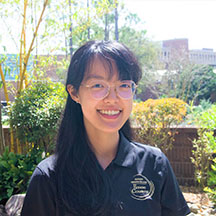 Janice Zou is a Burnett Honors College student. She is currently in her third year of her Bachelors of Science in Mechanical Engineering at the University of Central Florida. Like others, with her passion for space, Janice's current career goals center around the space industry after her pursuit for a Masters. She has previously had an internship with Northrop Grumman in their Aeronautics Systems sector and has worked with Lockheed Martin in their Missiles and Fire Control location as a College Work Experience Program participant. Outside of school and work, you can find her practicing classical piano pieces.