A first-place rocket, a second-place unmanned rover and a third-place human-powered vehicle are all student-made projects that continue the University of Central Florida's longtime success in engineering competitions.
The award-winning creations were among 100 spring 2015 "senior design" projects created by teams of four to six students during their senior year as a graduation requirement. The purpose is to demonstrate students' engineering knowledge and skills, and their employability.
Most UCF engineering seniors undertake their projects with the goal of getting a good grade and graduating. But for students who compete, it's also about putting their creations to the real test — against other schools.
The competitions involve everything from rockets, robots and concrete canoes to solar-powered boats and air handling systems. Traditionally UCF students have excelled in them.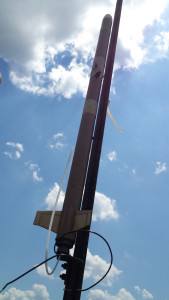 This year, UCF won the "Maximum Altitude" category of the 2014-15 Hybrid Motor Rocket Competition, sponsored by NASA's Florida Space Grant Consortium. The UCF rocket achieved a 3,042-foot altitude (or 134 feet higher than two Empire State Buildings stacked), easily outdistancing the second-place height of 700 feet (about half of one Empire State Building).
Team leader Michael Rodelo, who graduated in May with a bachelor's degree in mechanical engineering, said the team used models that calculated 2,700 under poor weather conditions. With launch day featuring relatively calm winds, the rocket reached its highest possible altitude.
"I think we all had a mixed feeling of thrill and disbelief. Coming into this project in the fall semester, only one of us had any experience launching model rockets. Seeing our rocket launch and fly as successfully as it did was already enough. Winning was almost surreal for us," Rodelo said.
Rebecca Whitsett, a senior in mechanical engineering who plans to graduate this summer, grabbed a third-place finish for UCF in the women's speed category of the Human Powered Vehicle East competition sponsored by the American Society of Mechanical Engineers. A UCF team usually competes each year. In 2014, the project known as "Knightrike" won the competition overall.
"I was confident that with proper demonstration of our vehicle's design features we would place well in the competition," Whitsett said.
This year's vehicle included a suspension system, which added about 15 pounds over 2014's winning Knightrike design. The total weight was slightly more than 61 pounds. "The suspension system was a challenge, but one the team thought to be worth the extra work," added Whitsett. "We knew the suspension would be a huge help in the obstacle course, and it was also necessary to our chosen innovation."
While disappointed for not getting a win, she added: "The key to the project's success was a combination of ambitious ideas, the will to pursue those ideas and the budget to support them."
UCF Results
2014-15 Hybrid Motor Rocket Competition (May 9)
Sponsor: NASA Florida Space Grant Consortium and the North East Florida Association of Rocketry
UCF Rank: First, maximum altitude category
Team Members: Charles Briscoe (mechanical engineering); Brian Gatzke (aerospace engineering); Alan Gomez (mechanical engineering); George Odell (mechanical engineering); Michael Rodelo (mechanical engineering/team leader).
UCF Project: Sponsored by Boeing and NASA, the rocket measured 3 feet in height and was made from 3D-printed materials plus components purchased from suppliers. The goal was to build a propellant bolstered with energetic additives to achieve the most thrust allowed by competition rules. The rocket's nozzle, for example, was machined to achieve maximum fuel efficiency in the expected altitude range of 2,700 feet. The nose cone was 3D printed, while the body tube, altimeter, parachute and several other components were purchased.
About the Competition: Two categories for hybrid rockets: 1) maximum altitude and (2) closest to 2,000-foot target altitude. Rockets could be built from scratch or from a kit. Engines could also be built from scratch or purchased; the engine was required to be a hybrid motor rated "G" or from a lower class.
2015 Intel-Cornell Cup at the Kennedy Space Center (May 1-2)
Sponsor:  Intel and Cornell University
UCF Rank: Second
Team Members (all aerospace engineering): Jeffrey Allar; Thomas Czachur; Jacob Hardin; James Owens; and Christian Chavez.
UCF Project: Involved the design and creation of an autonomous rover with a primary purpose of communicating with, and charging, a semi-autonomous "multicopter." Team S.C.R.A.M. (Supply and Command Rover for an Autonomous Multicopter) created an unmanned copter that landed on a solar-powered mobile charging station (a ground rover). The entire system was unmanned. The copter landed on the rover precisely enough to engage its plug-in charging mechanism. The electric-motorized rover communicated flight-path information to the copter while it was docked. Current unmanned aerial vehicles are limited by battery technology that reduces flight time.
About the Competition: An annual yearlong, academic experience culminating in a two-day summit event that empowers student teams to become the inventors of the newest innovative applications of embedded technology. Such technology involves the use of a computer system within a larger mechanical or electrical system. The technology is embedded as part of a complete device that often includes hardware and mechanical parts. Embedded systems control many devices in common use today and are often based on microcontrollers.
2015 Human Powered Vehicle East Competition (May 9)
Sponsor: American Society of Mechanical Engineers
UCF Rank: Third, women's speed
Team Members pictured above (all mechanical engineering): Christian Robledo; Javier Gallo; Jonnie Diegelman; Jorge Troitino; Jose Troitino; Rebecca Whitsitt.
UCF Project: In 2014, UCF took first place overall with "Knightrike." This year, the project continued the excellence by exhibiting the latest improvements with "Knightrocycle." New this year was a full suspension system that helped to add about 15 pounds to the vehicle along with great maneuverability. A cabin cooling system also was added, and the team performed cost and engineering analyses to explore the balances among performance, cost, reliability and safety to create a human-powered vehicle that could be mass produced.
About the Competition: At the core is the application of sound engineering design principles in the development of sustainable and practical transportation alternatives. The first stage involves the preparation of a comprehensive design report. The second part includes a demonstration of a technical innovation, encompassing design, a speed event (either 100-meter flying start time trial or head-to-head drag race) and a 2.5-hour endurance race held over the course of a weekend.