From gluten-free brownies to scrumptious mac n' cheese – the Halloween-themed bake sale organized by the College of Engineering & Computer Science (CECS) staff last week was a huge success.
A total of $568 was raised from the bake sale to benefit Limbitless Solutions, a UCF-based nonprofit group of engineering students and others who volunteer their time in CECS's Maker Space Lab complex creating 3D-printed bionic limbs for children at no cost to families. Featured in ongoing national and international media attention since July 2014 for their work, Limbitless Solutions is facilitating similar efforts around the globe.
CECS staff today presented Limbitless founders with a check from the fundraiser.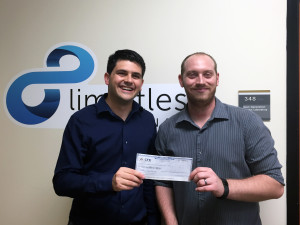 Albert Manero and John Sparkman of Limbitless Solutions are presented with a check from the CECS Staff Association.
"That $568 is going directly to getting another child an arm, completely donated, at no cost for their family," said Albert Manero, UCF aerospace engineering doctoral student and founder of Limbitless Solutions. "We are thrilled because it just keeps unlocking doors for more kids."
"Having the support of UCF, the faculty, and student body is incredible. It really encourages us to keep pushing and keep doing what we are doing as a non-profit."
Twenty-two staff members volunteered their time to help set up, man the bake sale, and clean up last Wednesday in the Engineering II atrium.
The bake sale is an annual tradition for CECS staff. Last year, $535.08 was raised to benefit Limbitless Solutions.
"CECS staff love hosting the bake sales to support causes near and dear to our hearts," said Terrell Hodges, president of the CECS Staff Association. "By supporting Limbitless Solutions, we support a UCF endeavor, the education and work of our students, and the life-changing impact on children who need limbs."
Past CECS staff bake sales have raised more than $3,000 to benefit Relay for Life, Autism Speaks, care packages for overseas troops and local families in need.
– CECS –