Rarely do scholars have an opportunity to meet the scholarship donors who help make students' academic dreams a reality, but in the UCF College of Engineering and Computer Science, scholars and donors are brought together each year at a unique, heartwarming event – the CECS Scholarships Reception.
The annual college tradition allows donors the chance to meet the students they help, and provides a way for the scholars to thank their donors in person.
At the recent 2019 CECS Scholarships Reception, the college awarded $182,250 to 113 students who were selected among 1,966 applications submitted to the college earlier this year.
"For donors, meeting the actual student recipient enhances the experience and satisfaction of making a donation. And the students benefit from meeting the donors, people who care and are making a difference in their lives. It's truly an enriching experience for both," said Michael Georgiopoulos, dean.
Most of the 50+ scholarships offered in the UCF College of Engineering and Computer Science were established by individuals, organizations or companies. Whether the donor seeks to memorialize a loved one, or wants to boost educational interest in a specific field, scholarships reduce a student's financial burden which helps them to focus on achieving academic success.
Environmental engineering doctoral candidate Carlyn Higgins '16, '17 was awarded the Gerry and Ruth Hartman Scholarship available for environmental engineering students. She expressed her gratitude during her keynote speech at the reception.
"I hope to change the water industry for the better, and I can only thank the availability of scholarships to help pay for my school and achieve my dreams," Higgins said.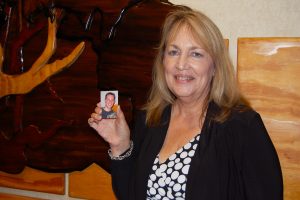 Scholarship donor Glenna Oro and her family established the Michael M. Oro Memorial Scholarship to honor her son, an aspiring computer science student who was preparing to transfer to UCF from Valencia College when he tragically lost his life. She said that establishing a memorial scholarship helps the family as much as it helps the scholarship recipient.
"Michael wanted to be in computer science," Oro said. "He loved computers. He wrote computerized music. That was his passion. He was so excited about coming to UCF but he was a few credits shy. Valencia awarded his associate's degree posthumously."
The first recipient of the Michael M. Oro Memorial Scholarship, in 2016, was Jacob Hazelbaker '18, who was studying computer engineering then.
"Jacob reminded me of my son," Oro said. "He showed me the computer that he bought with the scholarship money as a way to thank me."  This year computer science senior Matthew Villegas received the scholarship.
STUDENTS: Applications for 2020-2021 CECS scholarships will be accepted from Nov. 1, 2019 through Jan. 30, 2020. Detailed information about available scholarships is posted online at http://cecs.ucf.edu/current-students/scholarships
DONORS: To establish a scholarship fund or to make a donation towards an existing scholarship, contact Sean Farrell in the College of Engineering and Computer Science at 407-823-1570 or email Sean.Farrell@ucf.edu.
See PHOTOS from the Sept. 17 Scholarships Reception here.
Top photo:  Scholarship Donor Martin Wanielista, Ph.D., Michael Georgiopoulos, Dean, College of Engineering and Computer Science; Lilli Yao, civil engineering doctoral student and 2019 recipient of the Marty Wanielista Endowed Fellowship. 
Story photo: Glenna Oro, founder of the Michael M. Oro Memorial Scholarship, holding a photo of her son for whom the scholarship is named.