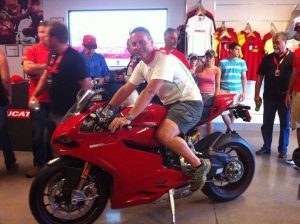 UCF may be closed but anyone in the giving spirit can help future engineering students by giving to the Chad Luektke Engineering Scholarship, a fund established by the friends and family of the young engineering alumnus to honor his memory.
Chad Luedtke, '92, made an impact through his passions (cycling and fast machines), his engineering profession his alma mater:  UCF. After Chad's passing in 2013 at age 43, friends and family honored him by establishing an engineering scholarship in his name. The first Chad Luedtke Engineering Scholarship was awarded in 2014.
To help raise funds for the scholarship, an annual concert, now in its fifth year, is organized by Brian Ribaric, '98, (pictured with the band the Dungeon Dogs: Steve Ferrell (co-organizer), Ferrell Hickson, '92, and Bill Walsh. Held at Bikes, Beans and Bordeaux, a CECS alumni-owned, cycling-themed eatery in Orlando's Audubon Park.
The fundraising concert spotlights local bands to help the scholarship reach endowed status, and to ensure Chad's memory lives on in perpetuity through UCF engineering students. With that simple step, Chad's friends and family are making their impact.
"Having the concert at Bikes, Beans and Bordeaux is very fitting as Chad also had passion for cycling and spent much time there with friends," Ribaric said.
The Chad Luedtke Engineering Scholarship is only $3,000 short of the endowment minimum of $25,000. If you are inspired by Chad's story and would like to help, click on the link to Give Now.