Hundreds of UCF engineering and computer science graduating seniors showcased 125 inventions today. From an augmented-reality restaurant menu to a six-legged robot that intelligently walks or rolls depending on the terrain, to drones and solar-powered innovations, the Spring 2018 Senior Design Showcase had something for everyone.
Senior Design is a required capstone course for most students in the UCF College of Engineering and Computer Science. Students take Senior Design I to brainstorm and design a project before bringing it to life in Senior Design II the following semester. Many projects are sponsored by corporate clients. Students showcase their projects at the end of the semester not only as a requirement to graduate, but to prove to industry their solid technical skills and that they are job-ready. Some students transform their inventions into entrepreneurial start-ups.
A panel of 40 UCF alumni judges from industry evaluated the projects using criteria such as creativity and originality in problem-solving, teamwork, presentation skills, and more. They recognized the best in show, the best in each of three disciplines – Computer Science, Electrical and Computer Engineering, and Mechanical and Aerospace Engineering – and two best multi-disciplinary projects.
The judges also awarded the top project from the inaugural Florida-Wide Student Engineering Design Invitational. Nine visiting engineering colleges showcased 25 projects alongside UCF's projects. In this first-of-its-kind collaboration, the 10 partner engineering deans sought to demonstrate the strength and scope of the engineering and computer science talent pipeline in Florida. The teams represented Embry-Riddle Aeronautical University; Florida A&M-Florida State University; Florida Atlantic University; Florida Institute of Technology; Florida International University; University of Florida; University of Miami; University of North Florida; and University of South Florida.
Here are the winners:
Best in Show: Florida Hospital Inventory Management Improvement
Industrial Engineering and Management Systems
Five students developed an inventory management system to be implemented on one floor of Florida Hospital. If successful, it will be scaled to other hospital floors. They suggested redesigning the storage facilities and carts for cleaning staff with the goal of decreasing the room turnover time. To execute this, the team had to overcome the challenge of timing the cleaning tasks performed by workers and interviewing them to determine areas of improvement.
"We had to work to gain the trust of the employees because they were hesitant to talk to us," team leader Lauren Brads. Their findings included new storage designs, products, and restocking policies. The suggested redesigns will be implemented on one floor of the hospital where time studies will be redone and compared with past data.
"Because of our findings, Florida Hospital will be able to see more patients, provide more diagnoses, and help save lives," said Brads, who will attend the Georgia Institute of Technology to study Operations Research.
Multi-Disciplinary Winner: Drone-Based Microgravity Experimentation Platform for Northrop Grumman — Blue Team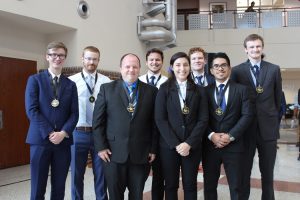 Mechanical and Aerospace Engineering, Computer Science, and Electrical and Computer Engineering
Sponsor Northrop Grumman commissioned three teams to develop a way for drones to carry a heavy payload and then free fall at a pace that's capable of mimicking microgravity conditions. The goal is to develop a low-cost, accessible alternative for researchers to conduct experiments in a microgravity environment, currently achieved by full-sized aircraft in parabolic flight.
The Blue Team's 11 students faced a major hurdle when their drone malfunctioned and crashed days before the showcase. Mechanical engineering teammate Ryan Reedy said they scrambled to successfully repair and replace nearly every part of the drone.
"I am proud that we were able to produce a prototype that actually flies," said Reedy, who will pursue a master's degree in Mechanical Engineering at the University of Colorado Boulder this fall. "We showed that it is possible to create reduced gravity conditions using a quadcopter, without paying for an expensive parabolic flight ticket or building a large drop tower."
A few teammates plan to continue refining the drone with the goal of producing a longer, cleaner microgravity state. Aerospace engineering major Andrew Crawford credits the team's success with the multi-disciplinary approach. Computer scientist Tyler Olechnowicz agreed. "Working across different disciplines allowed us to learn from one another and keep each other motivated." He now works as a developer with Accessible Solutions, Inc.
Multi-Disciplinary Winner: Process Improvement for Blending Operations at Coca-Cola Main Street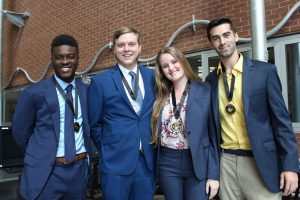 Industrial Engineering and Management Systems and Mechanical Engineering
Eight students developed a game plan to improve blending operations at Coca-Cola's Main Street Plant in Auburndale, Fla. The group worked to reduce variability, eliminate waste and increase productivity, and introduced a statistical analysis-based approach.
Teammates worked to understand the process at the factory and identify areas of improvement. The three mechanical engineers focused on analyzing one of Coca-Cola's thaw tunnels to improve production.
Madison Blake said she and her industrial engineering teammates originally planned to find improvement opportunities to increase the amount of product passing through the system, but quickly realized they needed to focus on standardization at the facility. This became their biggest lesson learned: to be prepared to change directions and overcome obstacles.
"The distance and teammate availability made trips out to the plant less accommodating, but it forced us to be more organized and resourceful to make the most of our time there," said Blake, who landed a job with Triumph Aerospace in Stuart, Florida.
The team was recently contacted by Coca-Cola to get one of their visual diagrams for a supervisor to begin using at the plant. 
Computer Science Winner: "Knest" Wildlife Photography Selection and Enhancement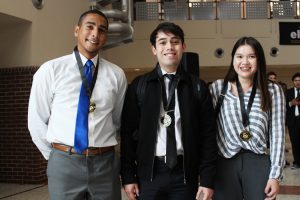 This four-member team developed a platform to give bird photographers a way to enhance their images and speed up the selection process. "Knest" uses innovative techniques in computer vision and machine learning to automatically detect the presence of birds in a photograph, and subsequently produce an enhanced version of the image. This allows photographers more time to capture images out in the field rather than sifting endlessly through pictures.
The most challenging part of the project for the team was collecting and preparing the data for the application.
"We were provided with an enormous quantity of unlabeled images and thus we had to hand-craft entire datasets full of thousands of examples to suit our specific requirements," said Alexander Decurnou. "After the creation of our datasets, we continuously iterated through our training processes, spending many long nights in the lab."
The team plans to continue working on the project to add-in new features. They also hope to expand the application's technology beyond bird photography by adding in the ability to detect humans and other species of animals.
"We were impressed with the efficacy of our project as well as the final output images of the application because it works more quickly than we expected," said Decurnou. "We were also surprised with the aesthetic quality of our output images as they are comparable to those manually created."
Electrical and Computer Engineering Winner: Water Analogy Project to Simulate Electrical Circuits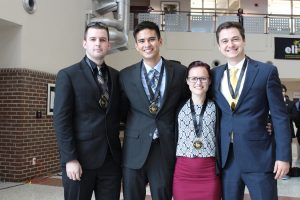 This four-member team developed an educational display to easily and visually explain how electrical currents work to young STEM students. Measuring 8-feet long by 7-feet tall, the Water Analogy Project uses the flow of water and LED strip lights to simulate electrical currents.
Team leader Inalvis Alvarez said the project was incredibly time consuming not only because of its large size, but also because the machine learning program took weeks to complete and had to be constantly monitored. "Any changes during the machine learning would affect the readings, therefore, the temperature of the water had to be monitored, the gear alignments had to be maintained," he said.
Three teammates have jobs lined up after graduation at Nielsen Media Research, Harris Corporation, the U.S. Air Force. Alvarez will begin his master's in Electrical Engineering at UCF this fall.
"Our supervisor, Dr. Chan, made us work harder and collaborate together to be able to deliver a good project," said Alvarez. "We learned a lot from each other and all the hours spent in the lab made us become really good friends."
Mechanical and Aerospace Winner: AgriStarts: Lid Decapping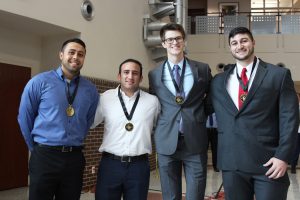 ArgiStarts, an Apopka-based supplier of starter plants and services, sponsored three Senior Design teams to automate the process of jar decapping; plant dislodgement from the jar; and plant washing. The Lid Decapping team came through with an award-winning design.
The six teammates spent time going through all of the ways to remove lids from jars and settled on the "wedge" design — which slides between the jar and the cap away from one another. From that initial idea, the wedge evolved into a myriad of shapes created on a 3D printer, and the team worked to nail down its exact composition. That was one of the most challenging aspects of the project, said teammate Ryan Austin, whose job was to design and manufacture 3D-printed components.
"As we were trying to decap jars, we did not expect that the trays were warped which cause the jars to move all over the tray," said teammate Jesus Torres Silva, who will work as a manufacturing engineer at Cummins, Inc. in Columbus, Indiana. "Our team was full of ideas and everyone brought their different areas of expertise to the table to create our design."
Visiting Team Winner: Florida Institute of Technology: Scuff Protection Interface Project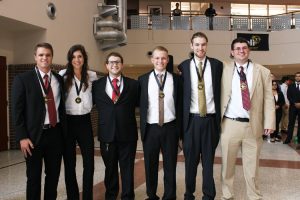 This team of six mechanical engineers from the Melbourne, Florida university impressed judges with their engineered solution for the U.S. Navy. The team was tasked with designing a Scuff Protection Interface (S.P.I.) to act as a buffer between U.S. Navy equipment and stainless steel and polished concrete floors. It was required that the material not scratch or damage the contacting surfaces, not exceed 60 inches length, 5 inches width and 0.5 inches thickness, and be capable of handling a static load of 25,000 pounds and a dynamic load of 100,000 pounds. Further, it was required that the S.P.I. not separate from U.S. Navy equipment.
The team decided to split the S.P.I. into two sections; the top section made of steel to weld to the mating surface, and the bottom section of the S.P.I. made of a polymer to prevent damage to contacting surfaces. A reciprocal patterned geometry was machined out of the steel and the polymer to achieve maximum frictional forces between these surfaces, eliminating the use of fasteners. After extensive wear testing on a collection of polymers, the material selected for the bottom section of the S.P.I. was bearing grade nylon (Nylatron 703XL). This innovative design met all U.S. Navy requirements, is easy to maintain and will support operations for years to come.