Consortium
The Data Observatory for Innovation and Economic Prosperity Consortium is an on-going effort by the founding members, collaborators, and many partners from industry, academia, non-profit, and government.
Strategic Objectives
The activities of the Consortium are organized around four strategic objectives that:
Are specifically designed from a functional perspective – each objective fills an identified gap in the use and application of data by innovation researchers and policymakers.

Inter-relate and work in concert to provide a cohesive infrastructure with standard policies for curation and access.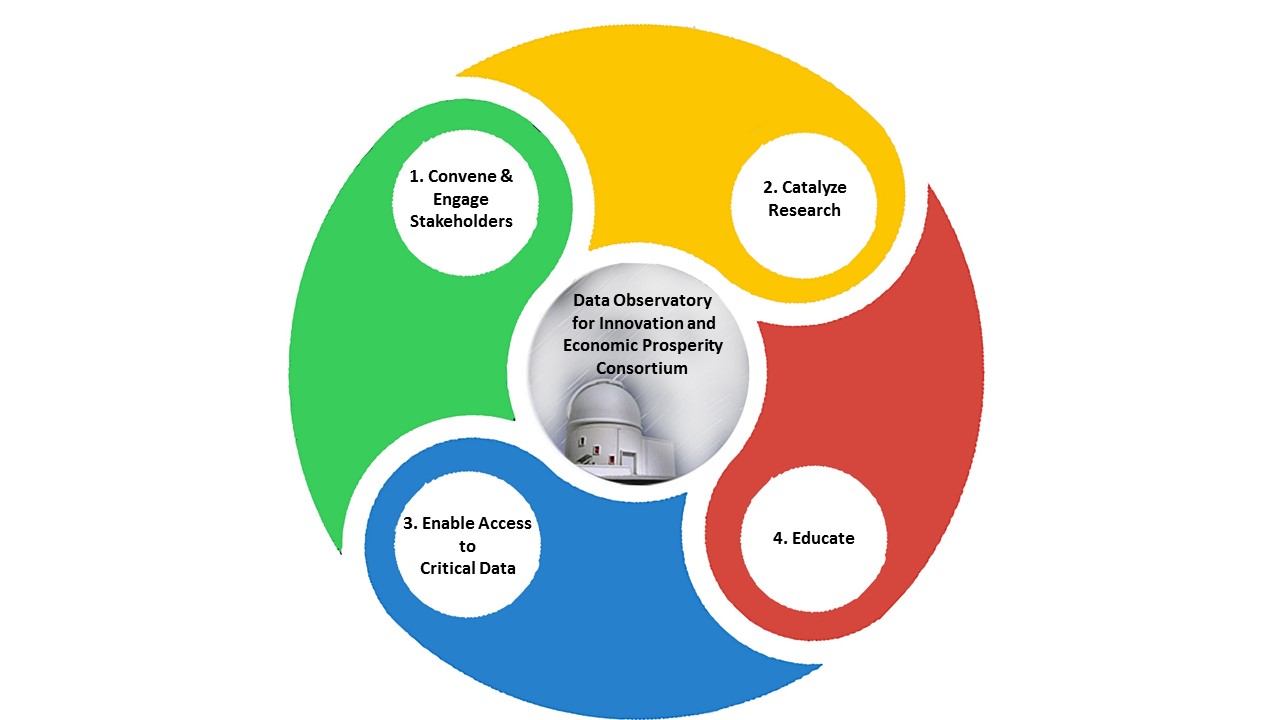 1) Convene & Engage Stakeholders
Organize and convene workshops with representatives from government, industry, non-profit, and associated research community to develop a policymaker-driven research agenda that guides and accelerates the creation and development of research ready data constellations, relevant to and valuable for use in addressing the critical questions of science and innovation policymakers along with working groups developing standards and guidelines for data access and sharing to support the research agenda.
2) Catalyze Research
Initiate funded research projects using the observatory for both exploratory research that leverage and showcase the value of new data types (big data), analytical techniques, or new data modalities, generate new collaborative research initiatives. Create robust systems for collecting innovation ecosystem data and replicate research across different domains for data-driven policy decisions.
3) Enable Access to Critical Data
Enable access to, and spur the use of, coherent, well-organized, well-structured, annotated, and documented constellations of data on innovation and economic prosperity provided by Consortium partners and supporting collaborators that can be used to answer critical questions in policymaker driven research agendas
4) Educate
Collect data, organize webinar workshops/discussions and champion data science education reporting and dissemination in order to foster work-force development in data science as it relates to promoting regional innovation ecosystem activity and economic prosperity.
​Founding Members, Collaborators, and Partners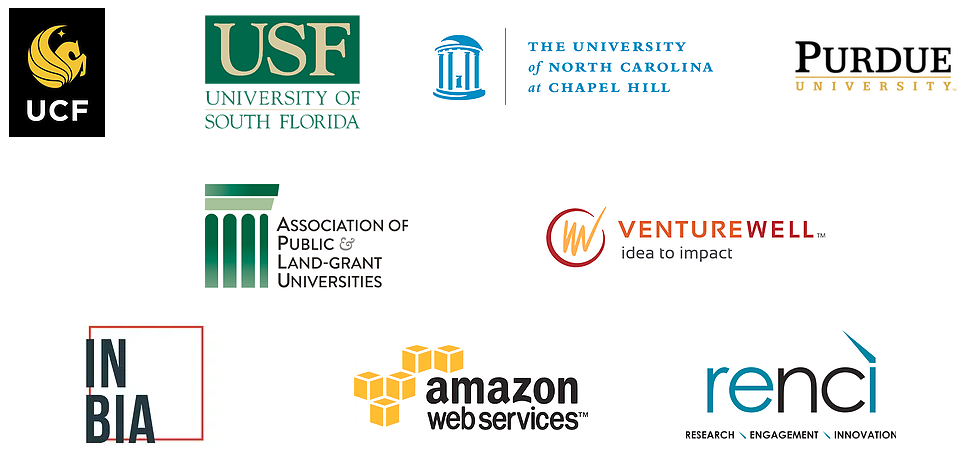 Additional Collaborators
American Underground
Big Moundatain Data
Center for Regional Economic Competitiveness
Deloitte Consulting
Educational Association of University Centers
Economic Modeling Specialists International
FAN Fund
Florida High Tech Corridor Council
Florida Virtual Entrepreneur Center
Florida Research Consortium
IBM Corporation
Institute for Research on Innovation & Science (IRIS)
Keystone Solutions
Leidos
National Association for Community College
National Center for Simulation
National Entrepreneur Center
National Governors Association
National Puerto Rican Chamber of Commerce
North Carolina Biotechnology Center

North Carolina Department of Commerce; Office of Science, Technology & InnovationOrlando Economic Partnership
RTI International
Small Business Development Center (SBDC) Orlando
Streamlyne
Synapse Florida
Systems Management Institute
TomorrowData
Unikey Technologies
University of Central Florida; Business Incubation Program
University of Central Florida; Masters of Science in Data Analytics Program
University of Central Florida; Venture Accelerator
University Economic Development Association
University of Michigan, Economic Growth Center
Walt Disney Attractions Technology LLC
Wireless Assets Holdings Inc.